REGISTERED PSYCHIATRIC NURSES' FOUNDATION, INC.
History, Mission & Vision
THE REGISTERED PSYCHIATRIC NURSES' FOUNDATION, INC.
The Registered Psychiatric Nurses' Foundation Inc. is a charitable organization facilitated by a volunteer board of Directors who raise funds to support Psychiatric Nursing excellence through annual scholarships awarded to psychiatric nursing students and to Registered Psychiatric Nurses in Canada who are pursuing undergraduate, graduate and doctoral level studies. The Foundation also provides annual Awards of Excellence to Registered Psychiatric Nurses in Manitoba.
Registered Canadian Charitable Organization # 897915567RR0001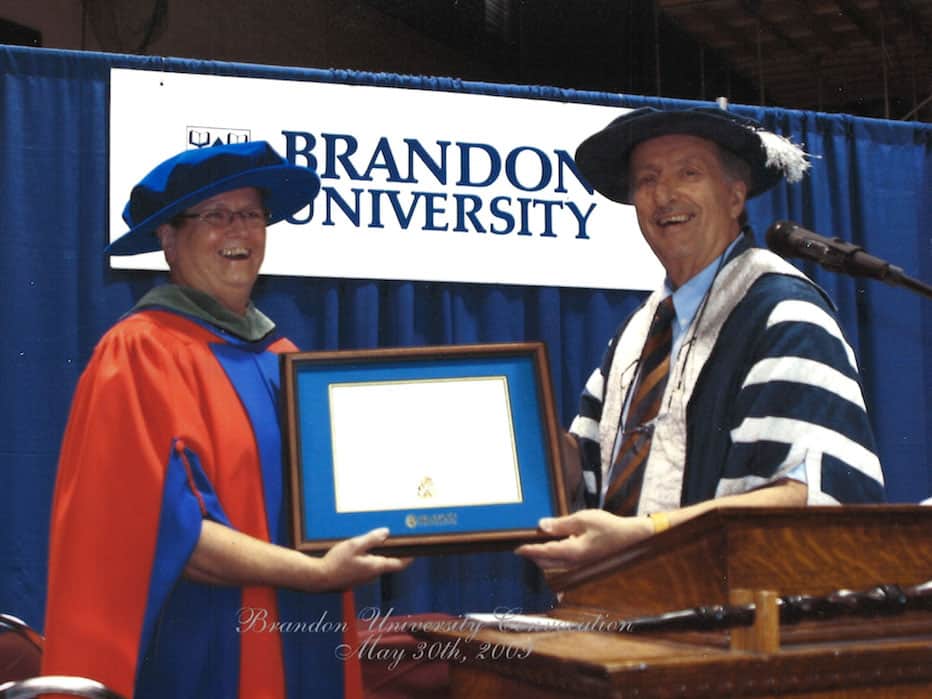 Marlene Fitzsimmons receiving her honorary degree
HISTORY of THE REGISTERED PSYCHIATRIC NURSES' FOUNDATION, INC.
The Foundation began when Marlene Fitzsimmons, an avid supporter of Psychiatric Nursing education and committed ambassador for the Psychiatric Nursing profession, sought to make a donation in memory of her good friend and colleague, Garry Edwards. Her idea was to develop a Foundation, which came to be know as the Psychiatric Nursing Foundation. The Foundation's Articles of Incorporation were developed and approved on April 15, 1980, and interested parties came together to form a Board of Directors. Bylaws were developed and charitable status was obtained from Canadian Corporate Affairs.
In 1993, under the governance of a newly appointed Board of Directors, the name of the Foundation was changed to The Registered Psychiatric Nurses' Foundation Inc. with accompanying revisions to by-laws. Its Mission was to provide financial assistance, through scholarships and bursaries to Registered Psychiatric Nurses wishing to participate in the post-diploma Bachelor of Science in Mental Health (BScMH) Program at Brandon University and/or other under graduate and/or graduate programs advancing the profession of Psychiatric Nursing. In an effort to ensure relevancy to current trends in Psychiatric Nursing, the RPNF Mission and accompanying Vision have been revisited as needed since that time.
RPNF Mission
To promote excellence in Psychiatric Nursing education, clinical practice, leadership and research.  The RPNF does this by attracting and managing gifts from donors into a permanent endowment fund.  These funds are used to award annual scholarships and grant a bursary.
RPNF Vision
To enhance the profession of Psychiatric Nursing in Canada.
The Registered Psychiatric Nurses' Foundation Inc. went on to co-host the National Psychiatric Nursing Conference in Winnipeg in 1995, providing a forum for RPNs to present their research and share innovative practice and education ideas with other RPNs. In 1997, the RPNF presented three cash prizes to participants in the RPNAM Research Committee Poster Competition, and awarded its first bursary to Lori Kash, a student from the Bachelor of Science in Psychiatric Nursing Program.
Since the first award, the range of RPNF scholarships and awards has expanded considerably.  See the Scholarship Section for current listings.
In 2013, the RPNF assumed responsibility for presenting Awards of Excellence to Manitoba Registered Psychiatric Nurses. These Awards, which focus on the four domains of Psychiatric Nursing practice, had previously been presented by the College of Registered Psychiatric Nurses of Manitoba. The Awards continue to provide public recognition for professionalism and practice excellence in the profession.
In 2004, the RPNF profile was highlighted internationally by holding a fundraising event during the RPNC World Congress for Psychiatric Nurses in Winnipeg. That same year, the RPNF established the goal to develop a $100,000 endowment fund, and has been successful in moving steadily towards this target.
As of 2023, the RPNF Board has agreed that all scholarships and grants will be available nationally, and that all scholarships and grants must be sustainable financially.
The RPNF proudly provides recognition and financial support to individual Psychiatric Nurses and in doing so invests in the future of the Psychiatric Nursing profession as a whole.